They think that this ear thing he has been dealing with has played a big role in his sleep problems, eating problems (he's stopped eating in the last week or so), and the fact that he is behind in vocabulary. I know this is the best thing for him, I'm just panicking a bit.

Once we get home and everything is better, I will be sure to post another update.
So I guess I haven't been very good about updating huh? On Wednesday Spud is getting tubes put in his ears. It's not a big surgery, but he gets put under general anesthesia so I'm freaking out. We went and saw the ENT doc a couple weeks ago. I wasn't really thinking he would have the surgery, but he had just gotten over his 14th ear infection, so I figured I would go hear what he had to say. Turns out Spud already had another double ear infection.


One of my friends just had a baby 2 months ago. Her daughter is gorgeous, and I am very happy for her. She blogs about her life with the new little one and I have been doing my best to keep up.

A week ago she wrote about how her daughter slept the whole night in her room and how she is getting closer to sleeping through the night. My first thought? "Yeah, that won't last." But then I remember, "Oh wait, my child is the only one who still gets up 6 times a night at 16 months of age."

Today she posted about how she resigned from her job so that she could stay home and raise her daughter. She made comments about how she doesn't understand why mothers go back to work after having kids, and how it would make her feel like the worst woman in the world to pay people to raise her child for her. The one that got me was that women are supposed to be there for their children, so she quit her job so that she could do that, and she knows that God will provide what they need financially. Yeah, know what would happen if I tried that? We'd be living in Scott's car (mine would be repo'd since we're still paying on it) or with his parents. Spud would get to spend 24 hours a day with me, wandering the streets because we wouldn't be able to afford to do anything fun. I have NO choice but to work. I have no choice but to put my son in daycare and hope that he is happier to see me at the end of the day then he is to see his teachers at the beginning. I have no choice but to work my ass off at work all day and then come home to do the laundry, clean the house, make dinner, and take care of my kid because it's not like I have any support.

I love my son. Spudders is the best thing that has ever happened to me, but sometimes people say things and I have to wonder if I am the worst mother ever. Maybe because I work all day and am not home with him, he gets up all night to play with me.

Maybe this whole parent thing was just one big mistake.....
I'm not sure when it happened, or why, but I have become a cynical mommy.
Current Mood:

depressed
1) Two weeks ago, Forest got bit my my in-law's dog. It was on his face, cutting right through his lip. It got infected, but we had another follow up appointment this morning, and it is looking better with no sign of infection! Thank goodness.
Here's how bad it was (actually the pic doesn't do it justice):
2) Forest graduated at daycare and is now in the toddler room 5 days a week. He loves it though he is exhausted at the end of the day. I am happy he is there because I feel like he is learning so much more now. He already has a new word. Unfortunately it's "no" which he likes to say a lot now. Oh well.
Here he is graduating:
It has been awhile since I last posted anything. Two major things have happened since then.


Current Mommy being committed due to insanity caused by lack of sleep.

This is a great deal! Act fast while he is still available!
Blond-haired, blue-eyed, 14 month old ball of energy looking for new home. Current on all shots. Not yet housebroken, but a fast learner who should pick it up quickly. Sleeps 5 hours a night in 1 hour stretches broken by 2 hour wakeful periods. Enjoys dogs, destroying property, and screaming as loud as humanly possible.
Current Mood:

exhausted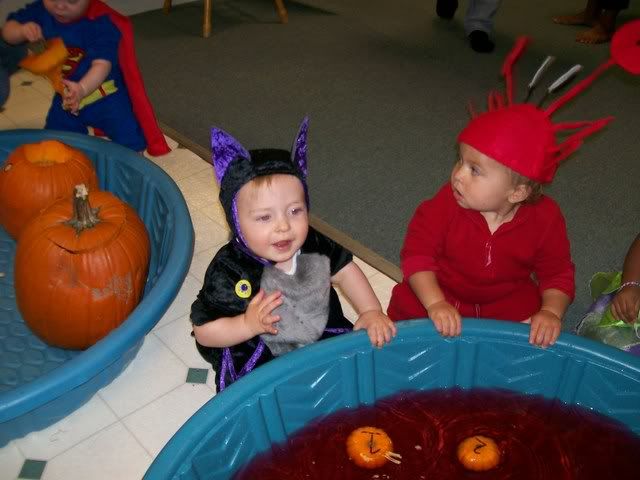 Supd had his first Halloween yesterday! OMG FUN! It was great. Babies in costumes are just about the cutest things ever. Want proof? Here is Forest and his friend Dawes at the daycare Halloween Party:


His first word? DUCK!

He has about a dozen rubber duckies he plays with during bath time and last night he was playing with them and called them "duck". It was very cool!

We have entered a new stage....I'm concerned! LOL
Munchy said his first word last night! Not Mama....not Dada....not anything you would expect.